The epidemic has been difficult for health workers in hospitals and retirement homes. Between overwork, lack of protection and lack of effective solutions to combat contamination, caregivers have sometimes been helpless.
Tucky remote monitoring solution, which can be used on both children and adults, reduces the risk of cross-contamination through remote and continuous monitoring.
Phase 1: Direct donations
At the peak of the health crisis, e-TakesCare wanted to be part of the collective effort. Therefore, it offered kits of 15 connected thermometers, notably to the Montvaillant Alzheimer Centre.
Phase 2: Solidarity together
In order to be better prepared, now is the time to act. To that end, e-TakesCare launches phase 2 of campaign: "Together for our Caregivers".
The aim is to offer new sets of thermometers to hospitals and retirement homes so that they can cope with the next health crisis.

For this, two 25% off coupon codes are available: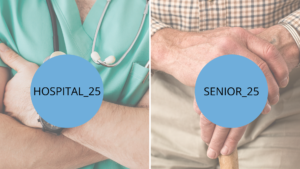 The more these coupon codes will be used, the more we will offer!
What is the principle?
Step 1: Choose your favourite project (help hospitals or retirement homes)
Step 2: Go in shop section
Step 3: Use the promo code corresponding to your project choice
We are counting on you!