Every year, we face epidemics of winter illnesses: flu, gastroenteritis and bronchiolitis. But did you know that these diseases are very rare this winter? Let's take a look back at these diseases and the reasons for their virtual absence this year.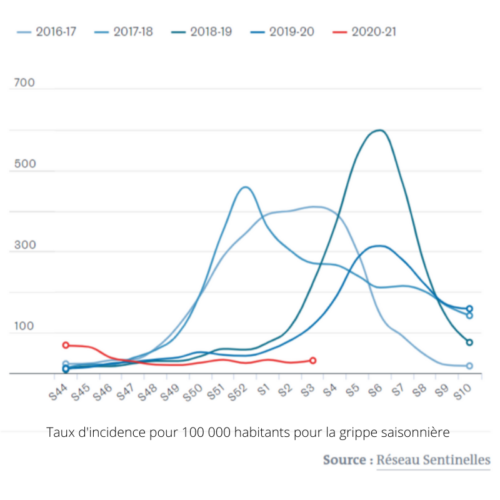 The three historical winter diseases
The three main winter illnesses are influenza, gastroenteritis and bronchiolitis. In recent years they have become epidemic in scale, affecting millions of people and often impacting on health structures.
What are the symptoms of these diseases?
Most of the time the flu breaks out suddenly. The patient has a high fever, general malaise, intense fatigue, headaches, aches and pains, a dry cough and a runny nose. To better differentiate between the symptoms of influenza and covid19, you can read our article on this subject.
Gastroenteritis is an inflammation of the digestive tract. The patient suffers from loss of appetite, nausea, vomiting, abdominal cramps, severe diarrhoea, but also fever, headache, fatigue and dehydration.  Children under 5 years of age are particularly susceptible to gastroenteritis and the dehydration it causes.
Bronchiolitis affects children under 2 years of age. It is a virus that attacks the lungs and swells the bronchioles (i.e. the smallest bronchioles).
4 barrier gestures against these winter illnesses
4 barrier gestures have been recommended to combat these viruses and avoid their proliferation:
Wash your hands thoroughly and regularly with soap and water for 30 seconds. Rub the palm and the outside of the hands well, between the fingers, fingertips, nails and wrists. It is then recommended to dry your hands in the open air or using a clean towel. According to the World Health Organization (WHO), this is the most important hygiene measure to prevent the transmission of infections.
Blow your nose with a single-use handkerchief, dispose of it in the trash and wash your hands.
Sneeze or cough into the crease of your elbow: when you sneeze by covering your mouth and nose with your hand, the germs deposited on it can be transmitted to other people when you shake hands or touch something.
Put on a disposable mask if you are going to be in contact with pregnant women, babies, the elderly and people with chronic illnesses. It is advisable to wear a disposable mask as soon as the first symptoms appear.
It should be noted that hydro-alcoholic solutions have been declared useful against many germs but do not eliminate all germs.
Don't these barrier gestures remind you of anything? They are of course the ones we must respect to fight against the proliferation of the coronavirus!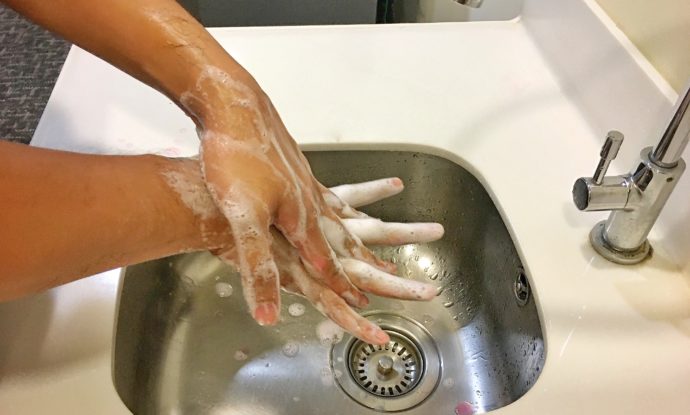 No outbreaks of winter diseases this year
And these sanitary measures combined with the closure of many busy places such as restaurants or cinemas have slowed down many viruses, including the 3 winter diseases mentioned above!
This winter 2020-2021 the flu virus, like the gastroenteritis virus, did not reach the epidemic stage. Thus, the latest epidemiological bulletin on flu published by Santé publique France on February 6 stated that there is for the moment "no active circulation of flu viruses identified by the dedicated surveillance networks".
A low level of emergency room visits or consultations with SOS-Médecins has been noted with regard to gastroenteritis. The same observation was made for bronchitis. The number of bronchiolitis cases has increased since January 2021 and is close to the levels of previous years, without reaching the epidemiological threshold.
These viruses spread mainly through direct contact and through contaminated surfaces. For this reason, they are susceptible to measures restricting the movement of people, as well as to hand disinfection.

In a way, we can therefore say that this year, covid19 has made it possible to knock out the flu, gastro-enteritis and bronchiolitis!
Sources