Here is a detailed review of Tucky's features.
WHAT IS TEMPERATURE MONITORING?
CONTINUOUS MONITORING
Continuous monitoring is, strictly speaking, 24-hour monitoring. The data is displayed in real time thanks to a temperature curve on the phone.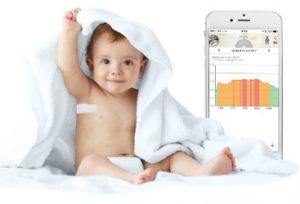 UNLIMITED DISTANCE MONITORING
Follow the temperature evolution, wherever you are!
The data is transmitted via Bluetooth Low Energy (250x less waves than a baby monitor) up to 10 metres. Beyond that, you use the relay mode which allows you to access the data in real time (Health Cloud synchronisation). Fever is under control in all situations!


POSITION MONITORING
In addition to tracking temperature, the Tucky thermometer also monitors the sleeping position of infants. It detects rollovers (on the stomach, back, side), and then warns parents in the form of alerts. This function thus makes it possible to respect the current recommendations of paediatricians.
AN INTELLIGENT APPLICATION
The connectivity between Tucky and the application offers you personalised monitoring in two clicks.
3 features 1 application.
ALERTS
Fever alert: in the event of a temperature spike (adjustable threshold), the application sends an alert to your smartphone.
Rollover alert: in the event of a rollover that could endanger the infant, the application also sends an alert to your smartphone (alert can be disabled).
MULTI PROFILE
Very few know about this feature, however, it is important. Indeed, a user account can host at least 6 profiles, the data are transmitted in the same way, each one keeps its history and settings.
HEALTH BOOK
Information can be added manually to the profile, such as the time of taking medication, the time of bedtime, etc … Thus, periods of illness are better managed and centralised on the same interface that can help in establishing a diagnosis.
TUCKY IS NOT JUST A THERMOMETER! IT IS THE SOLUTION.